Wear for the 21st Century
In Junction 8 today, I saw a pseudo-pushcart stall with a T-shirt that read: "Social hazard. I will not conform to the pattern of this world." Wondering how they were being allowed to hawk products with such socially disruptive messages which will inevitably unravel the fabric of our society, causing it to descend into looting and rioting and the end of Singapore as we know it, I looked at the other T-shirts to see if they broadcasted similarly seditious and subversive messages.
I was mildly surprised to find out that the stall was selling "Funky Christian T-shirts" and other such merchandise. The usual trite slogans abounded (eg "No Jesus, No Peace. Know Jesus, Know Peace"), and it seemed that I'd unconsciously filtered them out, only being drawn to the one with the seditious message. Looking closer at it, I found that "Rom 12:2" was written at the bottom of the shirt.
After a quick glance at my
portable concordance guide
, I immediately conceptualised the most obvious sequel (at least to me) in the same vein: "I hate my family (Lk 14:26)". I also was put in mind of the corollary of the "No Jesus, No Peace" slogan: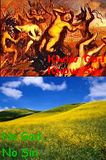 "Know God, Know Sin. No God, No Sin."